Apple M3 Pro, M3 Max, M3 Ultra: New Lightning-Fast M3-Processors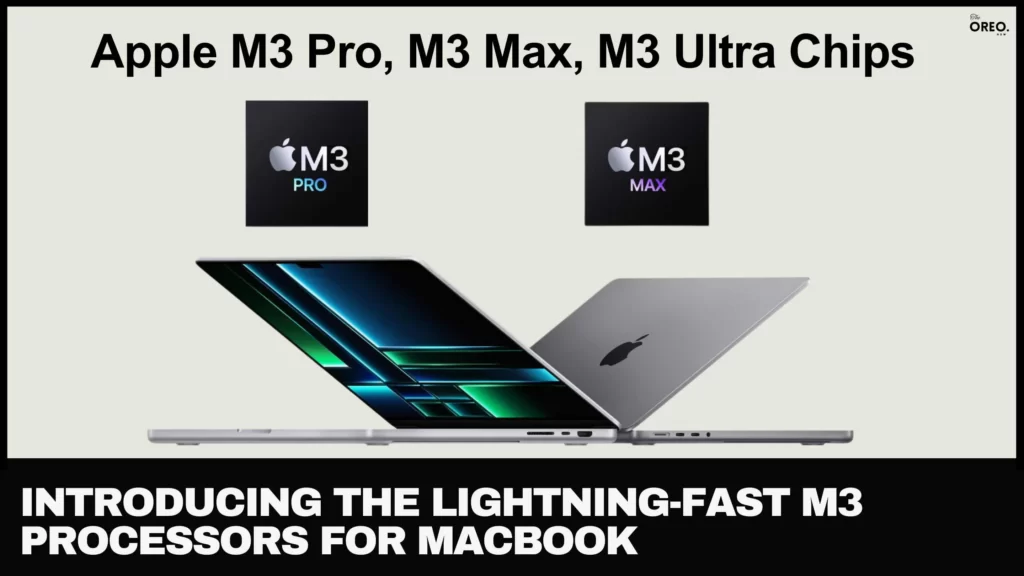 Apple is expected to announce its new M3 Pro, M3 Max, M3 Ultra chips on October 30, 2023, in a special event. These chips will perform better than M2 Pro, M2 Max, and M2 Ultra processors. The chips are made using Taiwan Semiconductor Manufacturing Co.'s new 3nm technology.
M3 Pro, M3 Max, M3 Ultra processors will have a more unified memory bandwidth and faster Neutral Engine cores. Apple may use M3 Pro and M3 Max chips in its next-generation MacBook Pros whereas it will use M3 Ultra chip in the next-generation Mac Studio and Mac Pro.
Specs of M3 Pro, M3 Max, M3 Ultra chips
| | | | | |
| --- | --- | --- | --- | --- |
| Chip | CPU cores | GPU cores | Unified Memory Bandwidth | Neutral Engine cores |
| M3 Pro | 10 | 32 | 400 GB/s | 16 |
| M3 Max | 12 | 48 | 600 GB/s | 32 |
| M3 Ultra | 16 | 64 | 800 GB/s | 48 |
Features of M3 Pro, M3 Max, M3 Ultra chips
Based on TSMC's new 3nm process
This will allow for smaller transistors and more transistors on a single chip. This will make the processors efficient and better.
More CPU and GPU cores
The M3 Pro is expected to have 10 CPU cores and 32 GPU cores, the M3 Max is expected to have 12 CPU cores and 48 GPU cores, and the M3 Ultra is expected to have 16 CPU cores and 64 GPU cores. This is better than the current M2 Pro, M2 Max, and M2 Ultra chips.
More unified memory bandwidth
The M3 Processors will have a unified memory bandwidth. So, the data will transfer faster between the CPU, GPU, and memory.
Faster Neural Engine cores
The Neural Engine cores will make processors faster to perform machine learning tasks like image recognition, natural language processing, and video analysis.
Additionally, the M3 Pro, M3 Max, M3 Ultra chips will have improved security features and better power efficiency.
Overall, the M3 Pro, M3 Max, M3 Ultra chips are expected to be significant upgrades. They will offer more performance, more efficiency, and more features. They are perfectly suitable for demanding tasks such as video editing, 3D rendering, and machine learning. Let's wait for the official release for the processors to know more about them, till then stay connected with Oreonow.