Introducing the New Fitbit App: Your Path to Elevated Wellness
Google is set to release new wearables in October, causing significant buzz in the tech industry. Google has revolutionized the Fitbit app, ensuring an immersive and personalized health and wellness journey. This redesign is exciting and unique. It moves you toward a future where everything you do is easy to control with your hand.
Brace yourself to eagerly adopt future fitness trends. In the near future, you will have constant access to information regarding your health and wellness. Your path towards a healthier lifestyle will transform into an exciting and thrilling experience like never before.
In the world of wearable technology and health advancements, Google has created excitement by announcing a new range of wearable devices that will be revealed in October. This exciting collection includes both the new Google Pixel Watch and a range of Fitbit devices that will change how we track our wellness. Google's unexpected modifications to the Fitbit app have startled everyone, breaking the silence. The primary purpose of this project is to offer users an advanced and tailored insight into their health and overall well-being.
Meet the new Fitbit app
Looking deeper into the new design, Fitbit is changing the way data is shown. The app is divided into three different sections called Today, Coach, and You, which is the main foundation of this improved user experience. The layout of the Today tab remains unchanged, however, users now have the option to personalize the primary health metrics according to their individual objectives. People who aim to better their sleep often find that Sleep, steps, mindfulness, and Zone Minutes are frequently highlighted.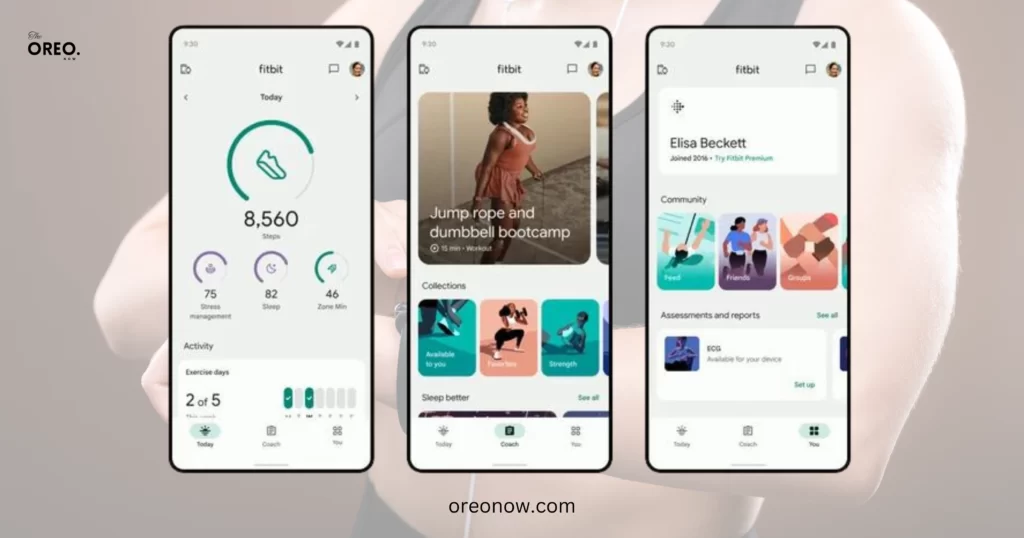 On the other hand, people who are focused on improving their heart health can expect to see a focus on measures related to the heart, zone minutes, and information about exercise. Fitbit remains dedicated to innovation by offering pre-programmed settings tailored to common goals. These settings are presented in a visually consistent design that includes easy-to-understand charts, graphics, and icons. Beneath the surface-level changes occurring presently, Google has a more profound and meticulously crafted strategy for the imminent release of the Pixel Watch 2. 
As people get more excited about the release of the Pixel Watch 2, there are many ideas about what it might be able to do. Among these ideas or theories, it is mentioned that a sensor for measuring constant activity in the skin is being developed, as well as the possibility of using a platform called Qualcomm Snapdragon W5 Plus instead of Samsung's processor. Google's thorough strategic planning and seamless integration demonstrate their dedication to enhancing its presence in the wearable technology market, paving the way for an engaging and auspicious future.
Google redesigned the Fitbit app
Google has made significant enhancements to the appearance and functionality of the Fitbit app, greatly improving health and wellness technology. The new app focuses on making it easier for users to view and understand their overall health and fitness. The new interface has easy-to-use tabs called Today, Coach, and You. It visually displays data and offers tailored workout plans. Google's commitment to enhancing the Fitbit app reflects their dedication to simplifying and customizing your fitness experience.
Google Fitbit acquisition
The Google-Fitbit acquisition marks a dynamic fusion of technology and well-being. This strategic alliance holds the potential to redefine the landscape of wearables and health tracking, offering users an integrated and personalized approach to their fitness journey. With Google's innovative prowess and Fitbit's expertise in health monitoring, this collaboration aims to empower individuals in their pursuit of wellness. As these two industry giants join forces, the future holds the promise of seamless connectivity between cutting-edge technology and individual health goals.
Google Wearables
The world of wearable technology has made a significant change with Google's entry into wearables. Google has developed a collection of impressive gadgets that will transform our utilization of technology in our day-to-day existence. These Google devices have the potential to seamlessly integrate into our daily lives, offering cutting-edge features and functionalities that simplify tasks and enhance our connectivity.
The aim of Google is to design advanced technology that can be conveniently worn, which includes smartwatches and fitness trackers. This technology will improve our digital experiences and make them even better.
Fitbit app redesign
The Fitbit app has experienced substantial transformations, introducing novel and improved means of wellness tracking. The latest edition has a distinctive appearance and is designed for user-friendliness, providing an entertaining and pleasurable encounter. Users have the ability to modify and customize their stats and graphs on Fitbit.
Fitbit allows users to personalize their stats and graphs to their liking. Fitbit users can create customized stats and graphs. The revamping of this design is a significant stride in creating a more individualized and appealing fitness experience.
Fitbit app's new UI
The latest update to the Fitbit app has made improvements to the look and ease of use. This will make it easier for people to track their fitness and health. Discovering your way and staying engaged is made simpler with the attractive visuals of the new design, allowing you to monitor your progress, access workout plans, and customize your journey toward well-being. Users find it convenient to engage with their health information due to this enhanced interface. Their goals will be easily achieved and aesthetically pleasing with every action they take.
There was uncertainty regarding Google's dedication to wearables initially, but recent developments show that both the Pixel Watch and Fitbit are here to stay. Rather than that, these recent enhancements exemplify a purposeful attempt to meld Fitbit's past with Google's aims, reinforcing their vital position in the perpetually transforming sphere of health and wellness technology.
Google's dedication to providing a seamless and pleasurable experience is evident in the updated Fitbit app, where technology and health seamlessly converge. The utilization of Fitbit and its app by a growing number of individuals will lead to an exhilarating voyage towards enhanced health. The app represents Google's dedication to making improve
Must Read: "Unveiling the Secrets: Android Devices and Sharing Personal Data"