Xiaomi Launching Its First 14-Inch Tablet: Introducing the Xiaomi Mi Pad 6 Max
In the arena of technological rivalry, where major corporations strive to outshine each other with their innovative prowess, a new contest is on the horizon. Prepare yourself for astonishment as Xiaomi, the trailblazing and inventive company, makes its debut in the tablet industry with a colossal Xiaomi Mi Pad 6 Max boasting a remarkable 14-inch display. The tech world can expect Xiaomi's bold move, which draws inspiration from Samsung's Galaxy Tab S9 Ultra, to be highly stimulating.
At the beginning of the show, we venture into Xiaomi's innovative spirit and their audacious effort to revolutionize the conventional approach. As enthusiasm builds, fans are eager to witness the capabilities and contents of this new device.
Xiaomi Mi Pad 6 Max: A Giant Leap in Tablet Innovation
Xiaomi is getting ready to release a new tablet called Mi Pad 6 Max. This tablet has a big 14-inch screen and is expected to provide a whole new way of using it. Simultaneously, Xiaomi will unveil both a thrilling product, the MIX Fold 3, and a tablet. The MIX Fold 3 is a smartphone that offers folding capabilities, much like Samsung's Galaxy Z Fold series.
Where Xiaomi is Launching its First Tablet?
Get ready for the grand debut of the Xiaomi Mi Pad 6 Max, set to take place in China on August 14, 2023. The occasion will appeal to individuals enthusiastic about technology and industry professionals. They are eagerly awaiting the opportunity to explore Xiaomi's new tablet and discover the distinctive aspects that set it apart from other tablets of the same size.
Size of Xiaomi Mi Pad 6 Max: Bigger is Better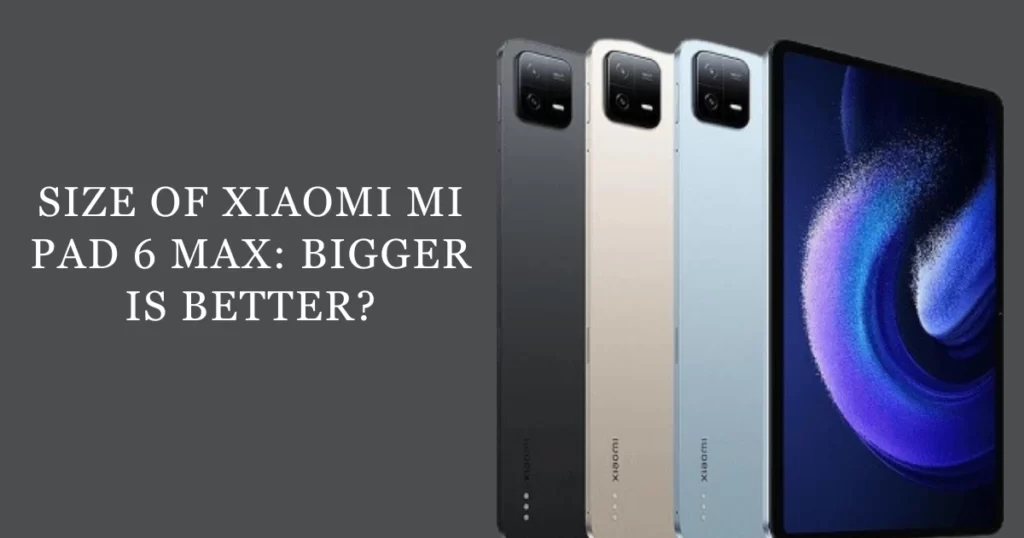 Xiaomi aims to make a significant impression with the Mi Pad 6 Max, as indicated by teaser images highlighting its substantial dimensions. The tablet's screen is 62% larger than the screens of Xiaomi's previous Mi Pad 6 and 6 Pro models, which measured 11 inches in size. Xiaomi's commitment to enhancing the user's visual experience is evident in the change in screen size. It makes tablets and laptops more similar to each other.
Features of Mi Pad 6 Max: Exploring the Teaser Insights
Xiaomi has been keeping most details about the Mi Pad 6 Max a secret. However, teaser images give us a few interesting hints about its features. Samsung's Galaxy Tab S9 Ultra has two cameras on the front and two cameras on the back. It is possible that a special sensor called a 3D Time-of-Flight sensor is included in one of the rear cameras.
 Measuring distance and producing three-dimensional models are among the impressive functions of this sensor. Additionally, it is believed that one of the front cameras will have a special sensor that can detect depth in 3D. Users can unlock the device and control media through gestures with the added benefit of secure face recognition.
Latest Xiaomi Mi Pad 6 Max: What the Certifications Reveal
Certification websites have revealed intriguing insights into the Xiaomi Mi Pad 6 Max, according to new discoveries. An included processor in the tablet is the Snapdragon 8+ Gen 1 SoC, and you can have a maximum of 12GB of RAM. In other words, it indicates that it can effectively handle various tasks concurrently.
Furthermore, the Mi Pad 6 Max will have 67W fast charging, which can greatly decrease the amount of time it takes to recharge. The Android 13 operating system powers this tablet, ensuring a delightful and feature-packed interface.
Xiaomi Pad 6 Reviews: A Glimpse into the Future
There is a growing enthusiasm surrounding the Xiaomi Mi Pad 6 Max. They can't wait to hear what experts and early users think about it. The Galaxy Tab S9 Ultra has the biggest tablet screen. Xiaomi's entry into the 14-inch tablet market amplifies the level of competition. This competition could make both companies come up with new and innovative ideas.
The Mi Pad 6 Max is a tablet that has a modern look, great camera options, and strong performance. It possesses the capability to challenge Samsung's dominance in the tablet market and establish itself as a significant competitor.
In the fast-changing world of technology, new ideas and creations drive us into unknown areas. Soon to be released, the Xiaomi Mi Pad 6 Max features a generous 14-inch screen that enhances visual content by displaying it in a significantly larger size. The tablet serves as evidence that human beings possess the ability to generate incredible ideas without boundaries.
As we conclude our discussion of anticipation and embark on the commencement of the Mi Pad 6 Max era, it is evident that Xiaomi has exemplified the outcome that arises when inventiveness and fearlessness unite. Our perception of portable computers is challenged by Xiaomi's courageous debut in the 14-inch tablet market, causing us to reconsider the significance of the Galaxy Tab S9 Ultra's large screen.
Must Read: Samsung LockStar Update Adds Widgets to Lock Screen and AOD