Heart On My Sleeves – Drake, and the Weeknd or AI?
On April 14, 2023, @Ghostwriter977. posted a song on TikTok, called Heart on my Sleeves, that was neither written nor sung by Drake or The Weeknd but sounds exactly like them. The answer to who sang it, will totally shock you.
https://oreonow.com/wp-content/uploads/2023/04/Drake-by-AI.mov
Ghostwriter977, an anonymous person posted a song named Heart On My Sleeves, in the voice of Drake or The Weeknd. He claims to have "used AI to make a Drake song feat. The Weeknd", as a caption along with the video. And to say Drake was LIVID, is an understatement. He also commented "This the final straw" on Insta story reacting to the AI generated Drake version of the Ice Spice's track 'Munch (Feelin' U)'.
We have heard about DeepFake but the fact that AI can generate the exact voice of a person is scary. It may be possible because of AutoTune being used widely by almost every singer in every one of their latest albums to make it perfect. Or due to the tremendous advancement of AI technologies. Either way, it isn't actually illegal to post a video or a song of a celebrity even without their permission, officially. Also, Drake and The Weeknd were not featured in the video so no legal actions can be taken against Ghostwriter. But what about the song?
This leads us to the latest update stating that this song has been taken down from all platforms it was streaming on, on April 18, 2023, at 10:21 a.m. Also, the first 4 TikTok reels posted by Ghostwriter977 were deleted as well because Universal Music Group claimed copyright.
About the song – Heart On My Sleeves
This song had over 8.5 million views, 2,76,000 streams on Spotify and over 2,00,000 plays on YouTube, and is set upon breaking records on all social media platforms. Even though it has been deleted officially, we know nothing's ever gone on the internet.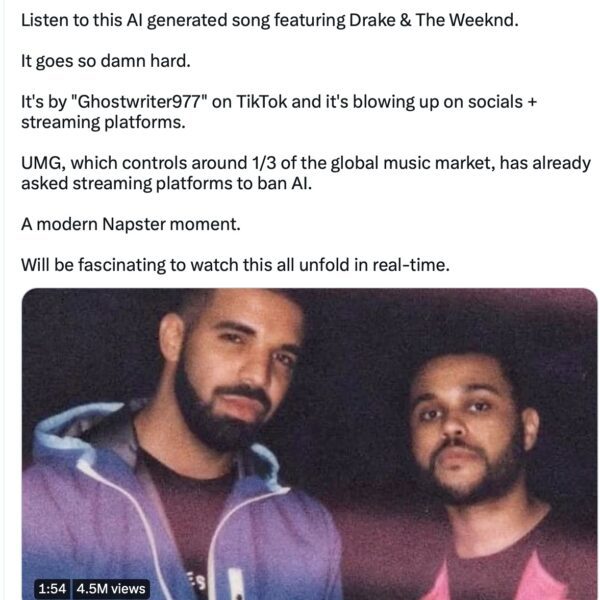 Whether it was written by Ghostwriter or AI, is still unknown. Also, the software that has been used for the voice and production, couldn't be identified.
The song begins with the well known producer tag of Metro Boomin, followed by Drake rapping the first verse and The Weeknd singing the chorus. In the lyrics, AI Drake alludes to 21 Savage as his brother and discusses a few scandalous topics. The Weeknd's AI voice, proposes that his ex-lover Selena Gomez cheated on him before their break-up in 2017.
The song track includes a call-out to Metro Boomin' (a famous ghostwriter), who collaborated with artists like Future, Nicki Minaj, 21 Savage, and Kanye West.
The song, 'heart on my sleeve' (Drake AI Song feat. The Weeknd)' is a completely original song and doesn't feature any celebrity in it and the producer, Ghostwriter977, made it crystal clear. As it is not misleading the public in any way, it is out of all legal complications.
It Is Just The Beginning…
"It is just the beginning" Ghostwriter977 claimed, posting another song on monday with a comment saying "add your number to the link in my bio & ill text u when it's back on Apple Music & Spotify. you can't kill a ghost."
Some recent viral songs like the deepfake of Rehanna singing Beyonce's track or Kanye West singing "Hey There – Delilah" have raised controversies on the authenticity of AI music creation. These tracks highlight the challenges and controversies surrounding the use of AI music as no copyright infringements can be made on them.
Artists like David Guetta push the boundaries of AI to explore the technology further. Using tools like UberDuck.ai, Guetta has successfully mimicked the voice of Eminem and blended it with his very own music and beats, creating an electrifying fusion of styles, captivating their fans from all around the world. He gave a statement to the BBC saying "I'm sure the future of music is in AI,". And this news is quite a disaster in itself for all the self made musicians and singers.
Can we truly consider AI as a tool for artistic expression? Or does it pose a threat to human creativity? What do you think?