OpenAI Meltdown – Was Microsoft's OpenAI Investment a Billion-Dollar Mistake?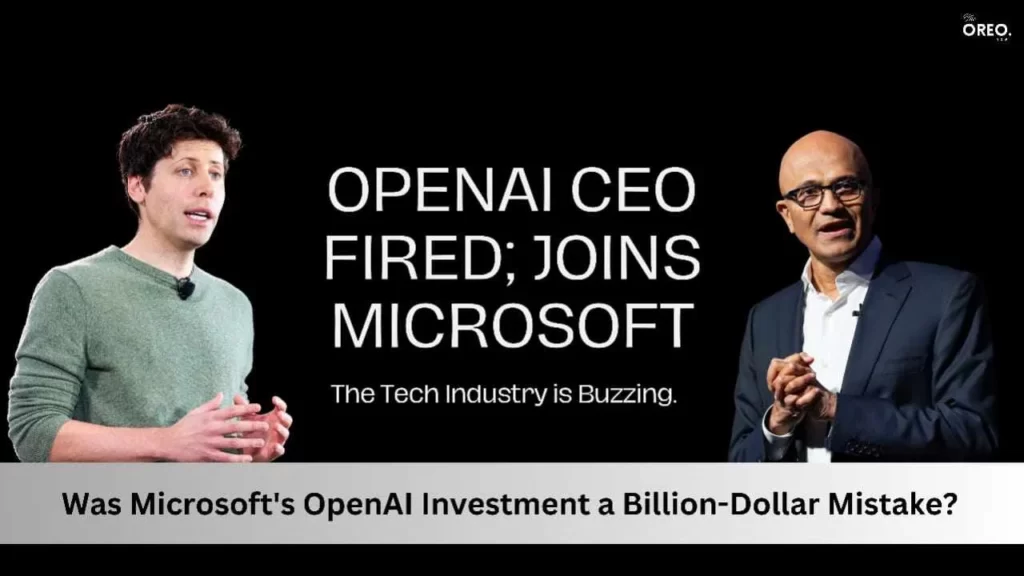 The board of directors of OpenAI abruptly dismissed CEO Sam Altman in November 2023. The board dismissed Altman, citing a lack of "candor" in his dealings with them. The specifics of Altman's alleged offenses are still unknown, though. Let's discuss the whole thing before talking about OpenAI meltdown.
Many in the IT sector were shocked by the abrupt resignations of OpenAI Chairman Greg Brockman and CEO Sam Altman in November 2023. Given that Microsoft had made significant investments in OpenAI, many questioned how the company could have allowed such a drastic change of events to occur.
After Altman's dismissal, OpenAI went through a period of internal chaos. The CTO of OpenAI, Mira Murati, was among several important staff members that quit in opposition to the board's decision. The incidents also damaged the company's reputation, and some investors allegedly started to doubt their dedication to OpenAI.
Microsoft was impacted by the unrest as well because it had made billion-dollar investments in OpenAI. Satya Nadella, the CEO of the business, made an effort to convince the public and OpenAI staff members that Microsoft was still dedicated to the company's success. But the things that happened at OpenAI made people wonder if Microsoft could really lead and control the business.
Factors of OpenAI Meltdown
Lack of transparency and communication: The OpenAI board decided to fire Altman and Brockman without seeking input from the staff or providing them with an explanation for the decision. The employees' mistrust and anger were seeded by this lack of openness and communication.
Disagreement over OpenAI's mission: Altman and Brockman had a clear vision with regard to OpenAI that emphasized the value of open-source development and teamwork in the AI industry. The board, however, might have prioritized the monetization of OpenAI's technologies with a stronger commercial focus.
Microsoft's influence: Microsoft may have had excessive influence on the organization's leadership and strategy due to its large investment in OpenAI. Tensions between Altman and Brockman and Microsoft's representatives on the OpenAI board may have resulted from this influence.
Personal conflicts: It's unknown why Altman and Brockman were fired, although there might have been personal issues or differences between the board members and the executive group that was fired.
The OpenAI meltdown brings to light the difficulties in leading and controlling quickly developing AI businesses, especially ones that sit at the nexus of business and open-source development. As a significant stakeholder, Microsoft will have to carefully manage these obstacles to make sure that OpenAI and its AI projects are successful in the long run.
Apart from the previously mentioned issues, there have been speculations that the removal of Altman and Brockman could have been connected to worries regarding the security of OpenAI's technology. Some of the most potent artificial intelligence (AI) has been developed by OpenAI, yet there are worries that this technology can be misused. It's possible that the board believed Altman and Brockman weren't doing enough to allay these worries.
Was Microsoft's OpenAI Investment a Billion-Dollar Mistake?
Whatever the causes of the collapse are, it is obvious that Microsoft erred greatly in its decision to invest in OpenAI. The corporation is currently dealing with a number of issues, such as the departure of important executives, a disgruntled workforce, mistrust towards the board, and a damaged brand. Whether Microsoft can bounce back from this setback and successfully lead OpenAI toward a more secure and fruitful future is still to be seen.
Other IT businesses investing in AI should take note from OpenAI's disaster. It is crucial to take precautions against the hazards associated with investing in these companies and to carefully weigh your options. Additionally, businesses should make sure that everyone is aware of the company's objective and goals and emphasize the value of open communication and transparency.
To get the issue under control, Microsoft declared in December 2023 that it will appointing Altman and Brockman to head a new AI research unit within the company in an effort. This action was perceived as an effort to satisfy Microsoft's AI aspirations as well as Altman's.
It's still unclear what the OpenAI disaster will mean in the long run. The business is still recovering from the internal strife and harm to its reputation that occurred in November 2023. If Microsoft hopes to secure the future prosperity of the corporation, it will have to carefully handle the management issues posed by OpenAI.
Although OpenAI's future is unknown, its recent problems serve as a reminder of the difficulties and dangers associated with creating and using AI technology. Let's see how this decision will impact OpenAI in the future, till then stay connected with Oreonow.