"Tata Airlines: A $1.8 Billion Loss Story"
Tata Group Airlines has witnessed a major transformation in the aviation industry, often associated with a sense of liberation in the skies. Amidst the deafening noise of the engines and the soaring of the wings, the company was grappling with financial troubles. The company announced a substantial deficit amounting to $1.8 billion for the year.
The airline business of the Tata Group is currently experiencing financial challenges. This group comprises well-known airlines like Air India, AirAsia India, Vistara, and Air India Express. The multiple reasons behind this difficult situation need to be addressed, while also seeking out any remaining signs of hope.
Collectively, Tata Group's airline ventures, including Air India, Air India Express, AirAsia India, and Vistara, recorded a combined loss of ₹155 billion or $1.87Tata Group's aviation business, known for its involvement with Air India, Air India Express, AirAsia India, and Vistara, has encountered an arduous financial predicament.
They have disclosed combined losses totaling a staggering ₹155 billion ($1.87 billion) People in the industry are now scrutinizing the reasons behind this significant setback because this new information emphasizes the complex inner workings and current challenges in India's aviation industry.
Airlines in India
The air travel options in India are varied, with numerous airlines offering their unique features, thereby enriching the country's diverse aviation sector. Well-known airlines like Air India and Jet Airways used to be the main carriers in the industry. Nevertheless, the advent of airlines like IndiGo and SpiceJet has occurred. 
The industry landscape has been transformed by the introduction of these new airlines, which offer competitive prices and extensive flight choices to various locations. Vistara and AirAsia India have added good services and local connections to the Indian aviation industry. In India, the aviation industry comprises numerous airlines that encounter various obstacles concerning rivalry, regulations, and innovation requirements.
Tata Group of Airlines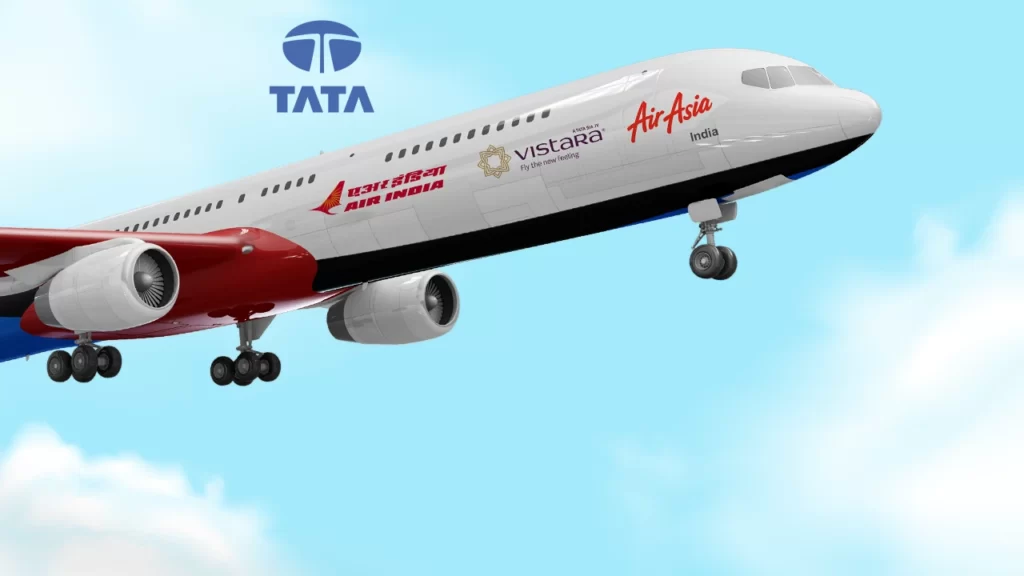 Image Credit – https://marksmendaily.com/2022/09/23/the-tata-group-is-set-to-start-the-integration-of-its-entire-airline-business-under-the-name-of-a-single-brand-the-air-india-brand-by-the-year-2024/
The Tata Group, a big and famous company in India, has played an important role in the country's aviation industry with its different airlines. Many airlines, including Air India, Air India Express, AirAsia India, and Vistara, are owned and operated by this major corporation. These airlines are part of the Tata Group's airline business. The business has recently experienced a big financial problem.
Why did Tata suffer from a huge financial setback?
The Tata Group's airline business was doing very well before, but it has recently faced difficult times. The business has suffered a substantial financial setback, resulting in a loss of ₹155 billion ($1 billion).87 billion) – in the last financial year. The substantial monetary predicament has caused people to feel anxious and inquisitive as they ponder the motives behind the extensive losses.
What Tata Group Plans to Infuse Up to $1.8 BN in Air India Vistara?
Unexpected developments have taken place in the aviation industry, particularly in Tata Group Airlines, known for its liberty and ambitious goals. Tata Group Airlines, despite being associated with freedom and ambitious aspirations, has undergone an unexpected turn of events in the aviation industry.
The conglomerate's airline business, which includes well-known airlines like Air India, Air India Express, AirAsia India, and Vistara, had a huge financial loss of ₹155 billion ($1.87 billion) for the fiscal year. Many people in the industry were both surprised and alarmed by this news. As a result of this major failure, we have been compelled to scrutinize the reasons for our substantial financial loss and the group's approach to addressing these challenges.
$1.8 Billion Tata Loss: A Closer Look
The financial situation for the Tata Group's aviation enterprise, once thriving, has deteriorated leading to a loss exceeding $1 million. 5 Concerns arise about the performance of each airline and the broader factors impacting the aviation industry due to the decline in monetary resources.
A Dive into Tata Airlines Loss
Out of all the Tata Group's airlines, Air India is the most noticeable one and it had a reported total loss of ₹112 billion ($1. 4 billion) for the fiscal year. A combination of factors, including ongoing financial obligations and costly repairs and fleet upgrades, contributed to the majority of these losses.
The Tata Group has heavily funded the repair of the grounded planes, ensuring they comply with international standards. The airline's already dire financial situation was further worsened as the expenses to renovate Air India's outdated aircraft amounted to a staggering ₹51 billion ($615 million).
Vistara V/S AirAsia India
Vistara and AirAsia India have encountered difficulties in generating profits, unlike Air India Express which has achieved a certain level of success. The ongoing financial losses of both airlines have posed significant difficulties for Tata Group's aviation division to handle their finances. The competitive market poses significant difficulties for Vistara and AirAsia India, making it challenging for them to surmount.
The majority ownership of Vistara is held by Tata Sons and Singapore Airlines, whereas Tata Sons and AirAsia Investment Ltd. also have a substantial share in the company. have a joint venture with AirAsia India.
Tata's Aviation Strategy
The Tata Group is currently facing significant losses and their aviation sector must make a crucial decision. The conglomerate wants to give Air India and Vistara up to $1.8 billion to make them stronger and help them grow. The utilization of this treatment could potentially lead to the airlines recovering and returning to a profitable state.
The story of Tata Group Airlines' $1. 8 billion loss gives us a peek into the complex difficulties that the aviation industry is dealing with. Financial difficulties have been a big challenge for these airlines, but the fact that Air India Express is making a profit again shows that the industry can bounce back. The Tata Group is progressing and continuing with its plans and investments.
There are many opportunities for the company in the Indian aviation industry. They need to figure out a way to be successful and stable in this ever-changing field.
Must Read: https://oreonow.com/worlds-first-mechanical-apple-watch-from-e-waste/