Windows 11 23H2 Update: New Era of AI-Powered Productivity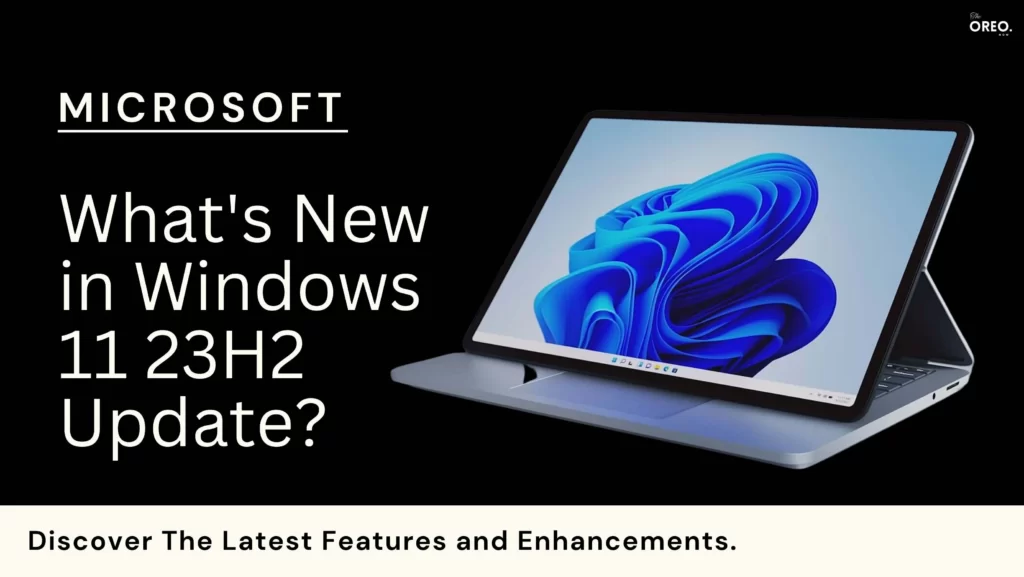 Microsoft released Windows 11 23H2 Update on October 31, 2023. It is also known as the 2023 update and it was released to the general public. However, to Windows insiders, it was released a few weeks earlier so that they could test the update and provide feedback.
How to Install Windows 11 23H2 Update?
To get the Windows 11 23H2 Update, you can go to –
Settings > Windows Update and click Check for updates
If the update is available, you can download and install it immediately.
Features of Windows 11 23H2 Update
Chat is now Microsoft Teams (free)
Microsoft Teams is a new experience which has replaced the chat app. It allows you to chat, call, and meet with people right from your taskbar.
Taskbar improvements
The taskbar is now more dynamic and informative. You can now see more information about your apps and tasks at a glance, and you can also customize the taskbar to your liking easily.
Start menu improvements
The Start menu has also been improved. It is more personalized and efficient. You can easily pin your favourite apps and files to the Start menu, and you can customize the layout of the Start menu according to your needs.
Why Copilot in Windows?
A new AI-powered assistant called Copilot for Windows can aid you with a number of activities, including coding, making presentations, and sending emails. You may also get assistance from Copilot with research chores, such as locating pertinent data in your local files or on the internet.
Although Copilot is currently in preview, several international markets allow users to test it out. You may click the Copilot icon in the taskbar or use the Alt + C keyboard shortcut to utilize Copilot. Next, a new window will emerge in Copilot's window, allowing you to interact with it and ask it questions.
File Explorer Enhancements
The 23H2 Update includes some improvements to the File Explorer. For instance, you may now have numerous directories open at once in the File Explorer by using tabbed browsing. Additionally, you have the ability to launch many File Explorer instances at once and preview files without actually opening them. Here are some additional File Explorer Enhancements:
A new ribbon interface that makes it easier to find and use the features you need
A new search bar that makes it easier to find files and folders
A new details pane that provides more information about the files and folders you are viewing
Settings App Enhancements
The Settings app has also been enhanced in a number of ways in the 23H2 Update. It is more organized and easier to navigate. You can also search for settings more easily. Here are some additional setting app enhancements:
A new homepage that provides a quick overview of your most important settings
A new quick settings pane that allows you to quickly change common settings, such as the volume and brightness
A new personalization pane that allows you to easily customize the look and feel of your Windows experience
New Developer Features
The 23H2 Update also includes a number of new features for developers. For example, developers can now use the new Windows Package Manager to install and manage Windows apps and packages. They can also use the new Windows UI Library to create native Windows apps with a modern look and feel. Here are some additional Developer Features:
Support for the latest C++ and Win32 APIs
New tools for debugging and profiling Windows apps
New documentation and tutorials
The Windows 11 23H2 Update includes a number of new features and enhancements. If you are using Windows 11, you should update to version 23H2 ASAP. Stay connected with Oreonow.